DIVING at LPRC
2002 Team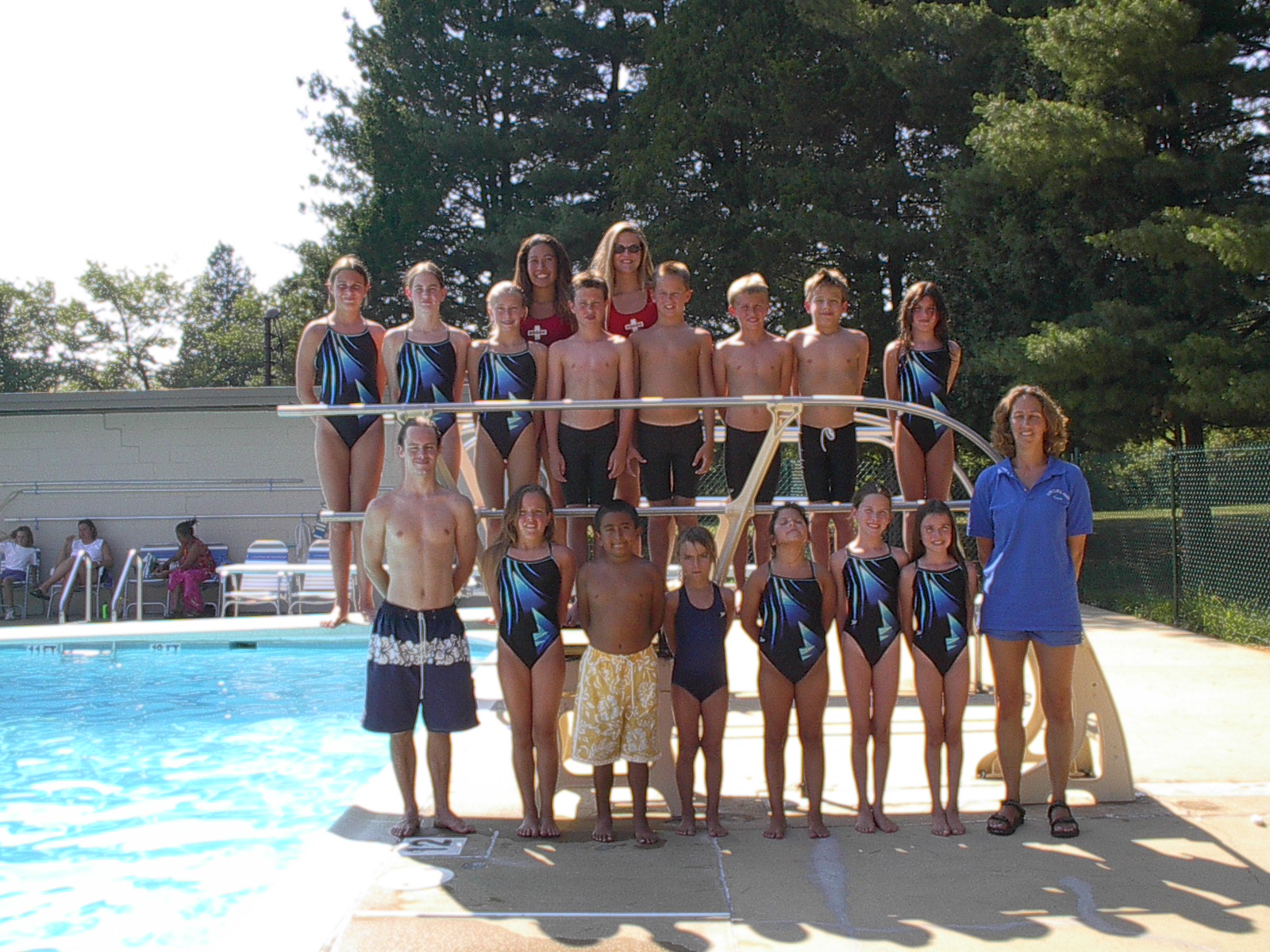 Coaches Yukari Nakamura (back row) and Marta Nammack (front row). Photo taken by Joanna Cole.
Dive Team Season 2002
The Lazers Dive Team dove well on Tuesday, after having a practice meet at Truro the previous Thursday. Despite some great diving, there wasn't much we could do with only 9 divers from LPRC against 26 divers from Vienna Woods. For detailed results, see June 25, 2002 Results.

Our second meet was fun because we dove against two pools in a tri-meet. We still had some holes, so the score doesn't reflect the talent of our divers. See July 2, 2002 Results for details.

We came close at our 3rd meet; see July 9, 2002 Results.

We saw some great diving at our 4th meet (July 16, 2002 Results), but we didn't have enough divers again. It was wonderful to see Claire Garney get up on the board and do her back dive and an inward dive! Samantha Romano did a somersault for the first time. We have a nice group of freshman girls (Rosie Dugan, Georgia Garney, Sabrina and Christina Romano, and Hannah Upchurch) who will learn their 3rd dive soon. Peter Cole, Connor Volk, and Abraham Dagnachew faced some tough competition, but managed to take 2nd, 3rd, and 4th place, respectively, in the Freshman Boy age group. Kala Orchard dove beautifully and placed 1st in Junior Girls. And Dylan Volk impressed everyone with his newly learned reverse dive and 1 1/2 somersault, not to mention his much improved front dive pike and back dive tuck, taking 2nd place among tough competitors in Junior Boys. Austin dove consistently again, showing us his neat back somersault with 1 1/2 twists and placing 1st in Intermediate Boys. And Evan Reid put all his dives in well and placed 3rd for us in the same category. Yukari met some polished divers in Senior Girls, placing first. And Ben Orchard took 3rd place for us among some seasoned divers!

Our last dual meet was completed in two days because thunder stopped us in the middle of the Freshman Boy competition on July 23rd. We had a good turnout and a close meet (July 23 and 25, 2002 Results). Our divers dove well at Divisionals on Sunday, July 28th. Two Freshmen Girls, Sabrina Romano and Samantha Romano competed for the first time, and they have really shown improvement over the summer. Five Freshman Boys competed, with Peter Cole placing 2nd to qualify for All-Stars, Graham Keller placing 5th, Abraham Dagnachew placing 7th, Jason Hallameyer placing 8th, and Connor Volk placing 12th. Jason learned a much improved back dive and somersault the day before the competition, and the extra practice payed off with a better score for him. Our Junior Girls had some tough competition, with Kala Orchard placing 5th, Liz Lusk placing 9th, and Samantha Romano placing 10th. Dylan Volk placed 7th in Junior Boys, another tough category this summer. Austin Orchard qualified as an alternate for All-Stars by placing 3rd in Intermediate Boys. Yukari Nakamura took 1st and will dive at All-Stars. And Benjamin Orchard qualified as an alternate for All-Stars by placing 3rd in the Senior Boys category. Results can be found at 2002 Divisionals. Peter Cole and Yukari Nakamura dove extremely well at All-Stars on August 4th. Peter placed 14th out of 18 boys, and Yukari is the 2002 NVSL 1-Meter All-Stars Champion! These results can be viewed at 2002 All-Stars.

Our divers were recognized at our end-of-season Swim, Dive, and Tennis Team Awards Ceremony, which was followed by our popular Pot-Luck Dinner and DJ Party. Everyone had fun at the party, dancing, competing in relay races, balloon tosses, hula hooping, and diving on the boards.

You can see the NVSL dive team results from all divisions at http://www.youthsports.com/hamilton/members/nvsldive.

Thanks go to all the parents who have been contributing their time and energy at dive meets: Ginny (Dive Team Rep/table worker) and Geoff (announcer) Garney, Kay (Judge) and Ben (Referee/judge) Orchard, Mary Ellen Cole (snack bar), Mary Louise Kelley (Judge) and Dan Dugan (Judge), Kay and Steve Lusk (table workers), Leah Reid (snack bar), and Dawn Volk (Judge/Announcer). Judging, refereeing, announcing, table working, and running the snack bar are all a big help. We couldn't run the meets without your help, and we appreciate it!

Anyone interested in learning to dive, please show up at practice and see if you like it. It really is a lot of fun! There are openings in every age group. The more you learn, the more you can dazzle your friends at your next pool party!

Some of our divers in action...a front dive and a front 1 1/2 somersault pike...